It's been an incredible summer in Sainte Foy this year:
The weather has been amazing, hitting up to 36'C.
We've had a prestigious UK Chapel Choir summer tour visiting and performing in Savoie Churches, Processions and Events, as well as having a lot of fun and activities around the valley and resort.
And not least our cycling programme, with tours organised for experts and beginners alike, and ticking off many of the Tour Cols in the area – Madeleine, Iseran, Petit St Bernard, Chaussey, Les Lacets de Montvernier, Lechaux, Hautcour, Cormet de Roseland…to name a few.  Onwards (and upwards!) next year.
The Tour de l'Avenir (Tour of the Future) finished stage 8 in Sainte Foy station – a fantastic scene in which to have been a part.
Some great nights of live music and fine summer evening dining on our bar and restaurant terrace.
It isn't too early to plan for next summer, so call us for family holidays, cycle tours, school or corporate events.  We specialise!
And as winter is now coming, all the airlines and eurostar have published their timetables, prices are still low, so contact us straight away to reserve your favourite accommodation and holiday services.
Great news from Sainte Foy: snow guaranteed!
The resort and piste team did an amazing job last winter showing their incredible expertise and the technology available – with limited snow at the start of the season, Sainte Foy had every piste open from day 1 – and this year looks even better.  Snow cannons and new technology has been built into place on even more of the key resort pistes to the extent that the Tourist Office are now GUARANTEEING snow availability in Sainte Foy, leading the way yet again across the Alps and the world.
There is also a brand new piste being built to take advantage of another shoulder of the Fogliette piste and opening up a whole new ski area in the pisted part of the resort from this December.
New developments at Venture Ski
We are delighted to introduce a brand new catered chalet in our portfolio – sleeping up to 12 people, with a huge open plan living area, west facing balconies and views across and down the Isere Valley.  Chalet Sassiere will also have access to our acclaimed Venture Ski Concierge Facilities:  Swimming Pool and Spa, Outdoor Hot tubs, Childcare and Creche facilities and of course close to the No. 1 rated Black Diamond Lodge Apres Ski Bar and Restaurant.
Venture Ski Accommodation Includes:
An on site Resort Manager and Concierge Services Manager to look after every aspect of your holiday
Your own Chalet Hosts and or Chef to serve you in your chalet
Use of our spa/swimming pool, sauna and outdoor hot tubs
Access to our Venture Ski facilities such as crèche, on-site massage therapist
Lovely cotton linen, fluffy towels, with hypoallergenic duvets & pillows
Heavy bath robes are supplied on request
Complimentary toiletries including shampoo, soaps & hydration cream
Free wireless internet access in all our chalets
Our very own Black Diamond Bar and our #1 Black Diamond Restaurant
Live family friendly après ski music at Black Diamond Bar on two nights per week
Easy access to the Sainte Foy resort – only 5 minutes walk with complimentary shuttle service
There are also bars, shops and restaurants within five minutes' walk from the chalet door.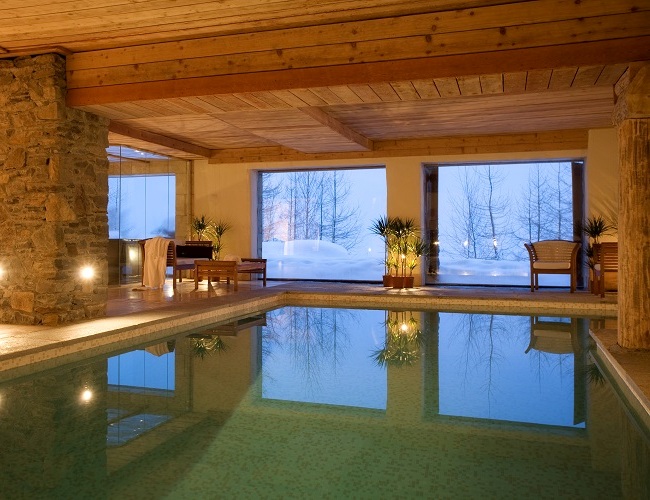 Don't forget our Concierge Service can assist with all aspects of your ski holiday in Sainte Foy. Once you reserve your accommodation, they will be in touch to offer advice and assistance with:
Ski school
Booking childcare
Airport transfers
Renting equipment
and many other touches to make your family ski holiday run smoothly.
What is included in our Sainte Foy Catered Chalets?
What is included in our Sainte Foy Self-Catered Chalets?
Thinking of your first family ski trip? It can be a minefield, so we are here to help. Read our information about first-time-skiers and don't hesitate to give us a call on +44 207 558 8278 where our friendly team are here to chat you through the best ways to plan, prepare and enjoy your holiday. We're happy to call back free of charge as well.
DON'T DELAY! YOU NEED TO PLAN AHEAD WHEN BOOKING A PEAK PERIOD SKI HOLIDAY.
Get in touch with us now at guest.services@ventureski.co.uk or send an enquiry form so we can give you the information you need.