Venture Ski is proud to offer family-friendly ski accommodation in Sainte Foy. There are Childcare services available and a kids club on-site which is run by Tarentaise Nanny Services – right next to your accommodation. Join us this winter for a holiday the children will remember.
As parents ourselves, we know what it takes to make a family holiday successful.
A full week of childcare in the club starts from just £415 per child (9:00am – 5:00pm inc. lunch) and a week of part time/half day care is £255. Daily ad-hoc care starts from £97 per child/per day. Peak weeks are £465 for full time care and £305 for part time care.
Family Ski Accommodation with Venture Ski
Our chalets are beautiful and comfortable – and many of our rooms are appointed with children in mind.
Our restaurant menu is freshly prepared and created using only the best local ingredients. We work hard to feed our young guests properly, so they have energy to take on their mountain activities.
The kids club is comprised of qualified nannies and early years teachers. They know how to engage with your children, helping them discover their winter surroundings and socialise with new friends. And their creche is warm and bright. The facility is very well appointed with books, arts and crafts, toys and space to create and have fun.
Our indoor swimming pool is a big hit with the children. The spa is warmed with underfloor heating and the pool temperature is kept at a very comfortable level. The hot tub is available for you and your older children to enjoy at the end of an energetic day.
---
Sainte Foy is famous for uncrowded pistes. The sight of a lift queue makes the headlines! There are gentle learner pistes and great ski schools, making it ideal for beginners or children.
The Tourist Office makes special efforts to give children a magical experience, with hidden treasure hunts, prizes and certificates for spotting local wildlife or hidden tokens.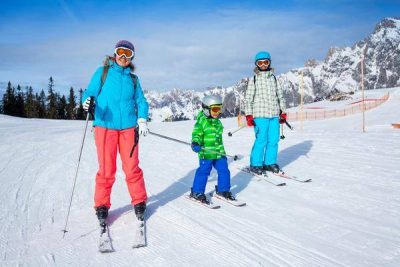 The pistes all culminate at the resort – so you can't get lost or lose your young ones. And although skiing the advanced runs, you are likely to spot your friends and family as you transit around.
"Sainte Foy was great, good for all levels, particularly families" – Trip Advisor
---
"Superb Facilities" – Trip Advisor

The Venture Ski Indoor Pool and sledging hill provide entertainment beyond the piste. Perfect for tiring out the children so you can enjoy some well-deserved relaxation time.
---
"Nothing was too much trouble at Venture Ski" – Trip Advisor
The Venture Ski Directors are no stranger to Family Ski Holidays. Having raised and taught all of their children to ski within the resort of Sainte Foy, they know what makes an excellent Family Ski Holiday for all.
Venture Ski had everything we needed, comfortable rooms, great staff, and excellent food. We stayed over new year and had a exceptional break. Nothing was to much trouble for us and our 3 children aged 10, 15, and 16. We would thoroughly recommend Venture Ski. – May 2018 Trip Advisor
---
Crèche and Childcare Service
The acclaimed childcare service on offer has been reviewed and recommended regularly in the national press. We are the industry leaders in delivering family ski holidays and the Tarentaise Nanny Services kids club facilities are amongst the best in the Alps.
---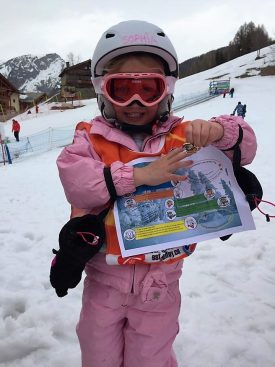 The Tarentaise Nanny Kids Club
The crèche space is a warm and bright facility with underfloor heating, plenty of toys, activities and crafts and windows with views of the Isere valley. The children have their own toilet area and the nannies have their kitchen to prepare the children's lunches therefore ensuring the children always have access to fresh food, drinks and dining areas.
Kids Lunch Lunches
To keep up their energy, children require plenty of nutritious snacks and a decent well-balanced lunch. The nanny team freshly prepares the children's food each day in the private kitchen, ensuring that nutritional and hydration needs are met. As a result, you can relax while out on the mountain, knowing that your child is receiving high quality food and care.
Ski School Drop-off and Pick-up
A most noteworthy part of our childcare service is the pick up and drop off of your child(ren) at ski school. The team and their helpers organise the safe movement of the children meaning you don't have to miss your own time on the mountain.
Daily Diaries
While in the crèche, your child will have their daily activities recorded for your review at the end of the day. The child care team will take you through the information and explain the activities and meals that the children enjoyed throughout the day.
More Information
Please find details of the Kids Club and Childcare Services on offer on the Childcare page.
Finally, please get in touch if you have any questions, and we look forward to welcoming your children to the club… or why not read our Top 10 Tips for Skiing with Children