With late snow this season promising good conditions through to May, if you're still looking for Easter holiday skiing this coming March and April 2020, we hope we can help. We always recommend booking ski holidays at Easter early to make sure you can get the chalet of your choice, but if you haven't yet booked your trip, there is always the possibility of cancellations, new luxury chalets coming onto our books, or other factors that may save the day!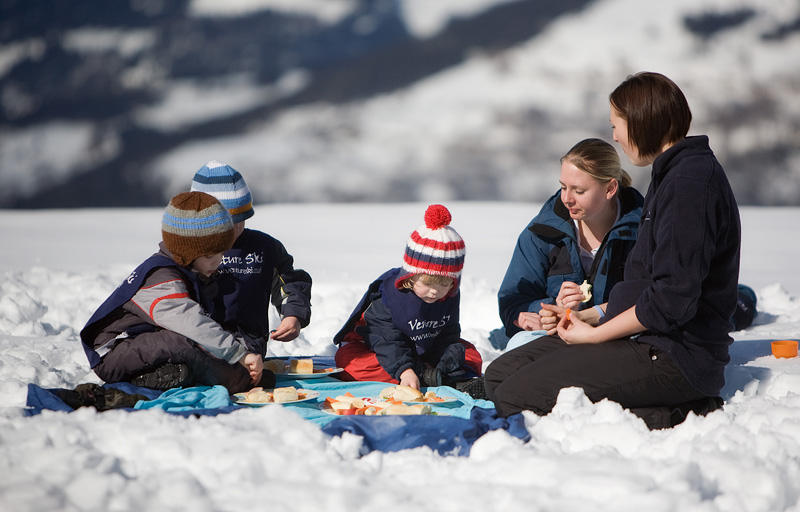 Depending on your county and school, in 2020, there are two key UK Easter holidays: 28th March – 4th April and 4th – 11th April. Remember our flexible booking options though and just tell us what travel dates suit you. There's a reason this is a peak period. We generally get great "spring snow" conditions and warm sunny weather that is great for youngsters in particular – the perfect family ski holiday. A great balance between good conditions for the children and still likely to find firm, crisp and sometimes even powder snow for the adults. If you have toddlers skiing for the first time, read our blog, and we recommend you consider Easter ski holidays. You'll go home with a tan, and your children will enjoy the snow without worrying about cold fingers and toes!
What's Included?
The Venture Ski Accommodation Includes:
Knowledgeable and friendly on-site staff to look after every aspect of your stay
Continental breakfast each morning with pastries, yogurt, cereals & fresh coffee/tea
Use of our spa/swimming pool, sauna and hot tub
On-site kids club (advance booking strongly recommended
Access to all our Venture Ski facilities such as on-site massage therapist
Lovely cotton linen, fluffy towels, with hypoallergenic duvets & pillows
Heavy bath robes are supplied on request
Complimentary toiletries including shampoo, soaps & hydration cream
Free wireless internet access in all our chalets
Our very own Black Diamond Lodge bar and our #1 Black Diamond Lodge Bistro restaurant
Live family-friendly après ski music at Black Diamond Lodge bar two nights per week
Easy access to the Sainte Foy resort – only 5 minutes walk with complimentary shuttle service
There are also bars, shops and restaurants within five minutes' walk from the chalet door.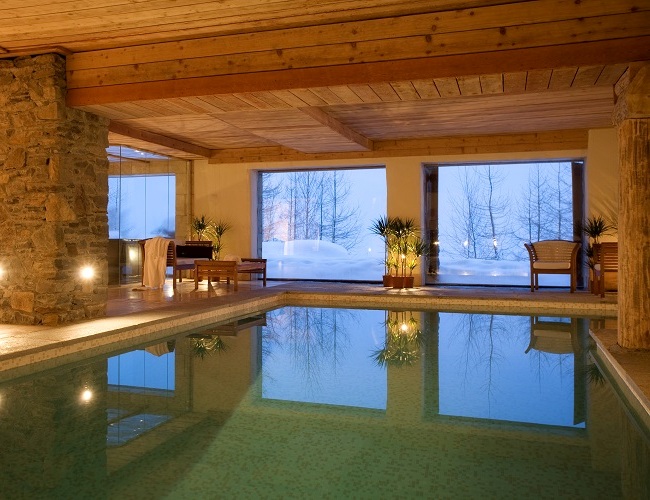 And don't forget our Concierge Service can assist with all aspects of your ski holiday in Sainte Foy. Once you reserve your accommodation, they will be in touch to offer advice and assistance with:
Ski school
Booking childcare
Airport transfers
Renting equipment
and many other touches to make your family ski holiday run smoothly.
What is included in our Sainte Foy Catered Chalets?
What is included in our Sainte Foy Self-Catered Chalets?
Thinking of your first family ski trip? It can be a minefield, so we are here to help. Read our information about first-time-skiers and don't hesitate to give us a call on +44 207 558 8278 where our friendly team are here to chat you through the best ways to plan, prepare and enjoy your holiday. We're happy to call back free of charge as well.
DON'T DELAY! YOU NEED TO PLAN AHEAD WHEN BOOKING A PEAK PERIOD SKI HOLIDAY.
Get in touch with us now at guest.services@ventureski.co.uk or send an enquiry form so we can give you the information you need.